We have been waiting patiently for this one, and it's here in our warehouse at Lauda Central Europe ready for you to sell.
SOUNDSWITCH® BRINGS MUSIC-SYNCHRONISED LIGHT SHOWS TO YOUR VENUE AND SMART HOME WITH PHILIPS® HUE® INTEGRATION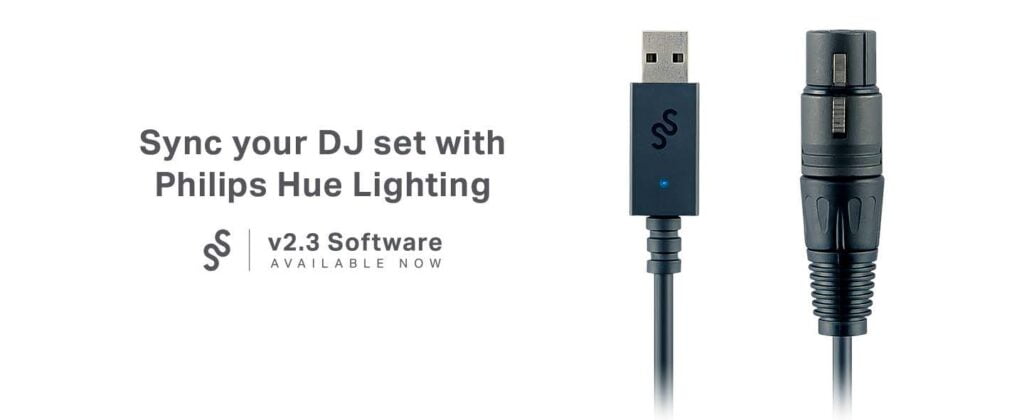 The latest v2.3 SoundSwitch release transforms your smart home into a nightclub with Philips Hue smart lighting integration, plus gives DJs enhanced control of on-the-fly FX and customisation.
For the first time, users can control and synchronise smart home lighting with an industry-first feature – Philips Hue smart lighting integration. The update also introduces live override FX, new autoscript presets, as well as a number of additional UI improvements and feature enhancements.
Philips Hue Smart Lighting Integration
Enhance your professional livestream or turn your smart home into a nightclub. The new Philips Hue integration allows you to control and synchronise Philips Hue smart home lighting effortlessly with your DJ set. Simply connect SoundSwitch to an Entertainment Area, press play on your DJ controller, and watch your lights automatically pulse and change colour in perfect time with the music. The Philips Hue integration works with both Autoloops and advanced customised light show scripting. Seasoned SoundSwitch users will be pleased to learn that DMX and Philips Hue light fixtures can be used simultaneously to create compelling environments with a mixture of consumer and professional lighting fixtures.
The new Live Override Effects allow for on-the-fly control over movement, colour HUE filter, customisable colour overrides, dual colours in Static Looks, Group Intensity Master and moving head position overrides. These Effects can be launched using any MIDI controller or the on-screen buttons providing more control over lighting effects on the fly. Static Looks are now fully customisable with the ability to select individual colours and control for each lighting fixture in the user's setup.
New Autoscript Presets & Styles
The AutoScripting feature has been upgraded to include new automatic algorithms for genres such as House and Techno, Trap and Electro as well as lighting automation styles for events such as "Party", "First Dance", and more. Both the new and existing AutoScripting presets and styles now apply to all fixture types including multicell fixtures such as the Gigbar Move and others. These new automation algorithms offer more variety providing users with more diverse light shows.
SoundSwitch 2.3 includes a number of new UI and UX improvements including expanded copy and paste functionality, workspace selection options, and Toggle and Press settings for MIDI controls. The user interface has also been updated to increase usability and streamline workflows.
In addition, SoundSwitch v2.3 brings the following notable enhancements:
• New Project workflow including Import & Export
• StagelinQ support for 4 Player + Mixer
• Added Workspace Zoom UI Controls
• Improvements to copy/paste & selection workflows
• Updated Default Data
• New Default Autoloops
• Preconfigured Gigbar Move project
• Automation applies effects to fixtures within fixture groups & to all fixture types
• Numerous usability and stability enhancements
They are available now from Lauda Central Europe.