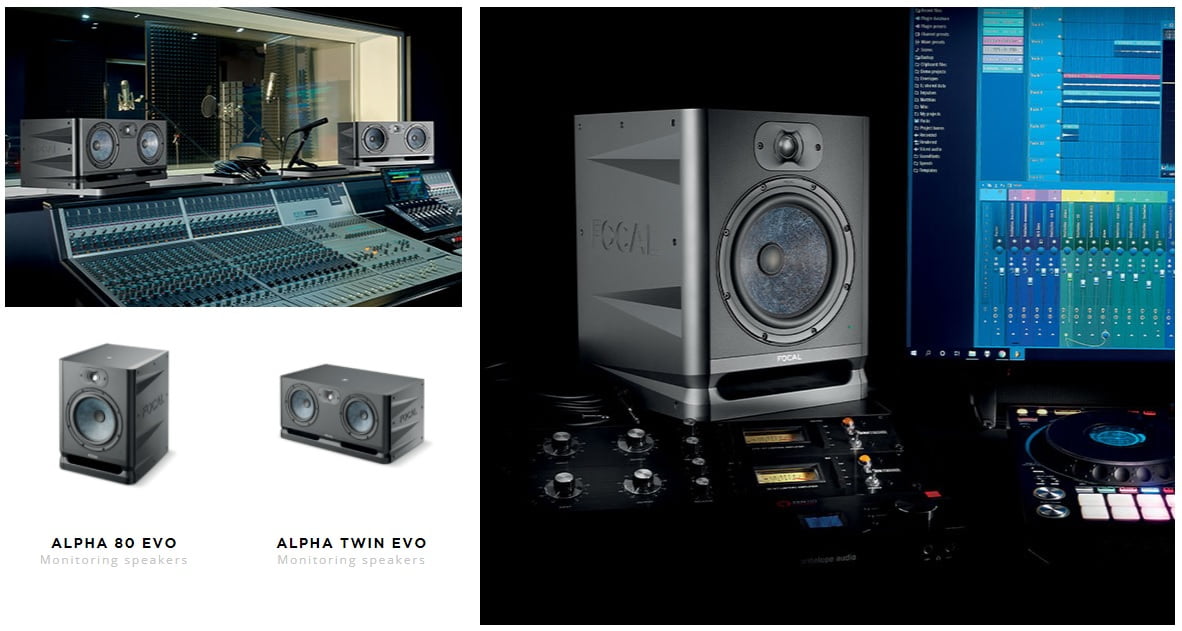 Focal is a brand that needs no introduction to fans of top-quality sound. That's why we are so excited to announce the release of three new models of professional speakers signed with their logo!
The Alpha 80 Evo and Twin Evo are an extension of the idea behind the well-received Alpha 50 Evo and Alpha 65 Evo. We recommend these monitoring loudspeakers to producers and sound engineers who value high volumes and rich sub-bass extension.
The Alpha 80 Evo comes with a frequency response of 38Hz – 22kHz. Maximum SPL is 106dB. This model provides neutrality across the whole sound spectrum. As well as excellent dynamics for very low distortion (like a Twin Evo). A new loudspeaker features a 1″ (25mm) aluminum inverted dome tweeter and a woofer with a Slatefiber cone.
Twin Evo is a versatile monitor speaker which is positioned horizontally. It is provided with an aluminum tweeter and two 6.5″ (16.5cm) woofers with a Slatefiber cone. Frequency response is the same: 38Hz – 22kHz. The maximum SPL rating is 108dB.
The release of both models means that the Alpha Evo family is now complete. But, as we mentioned, there are as many as three Focal newcomers on board.

The third is a brand-new professional subwoofer called Sub One. It is presented as an ideal partner for the Alpha Evo and Shape collections, thanks to its 200W RMS power, 114dB max. SPL, exclusive Slatefiber technology, and very low distortion.
NEW FOCAL MODELS AVAILABLE FROM US!
Focal creates audio solutions that don't follow industry trends but instead set them. This is why they are so popular with professionals who work with sound every day.
Interested in having new models for sale? Contact us!