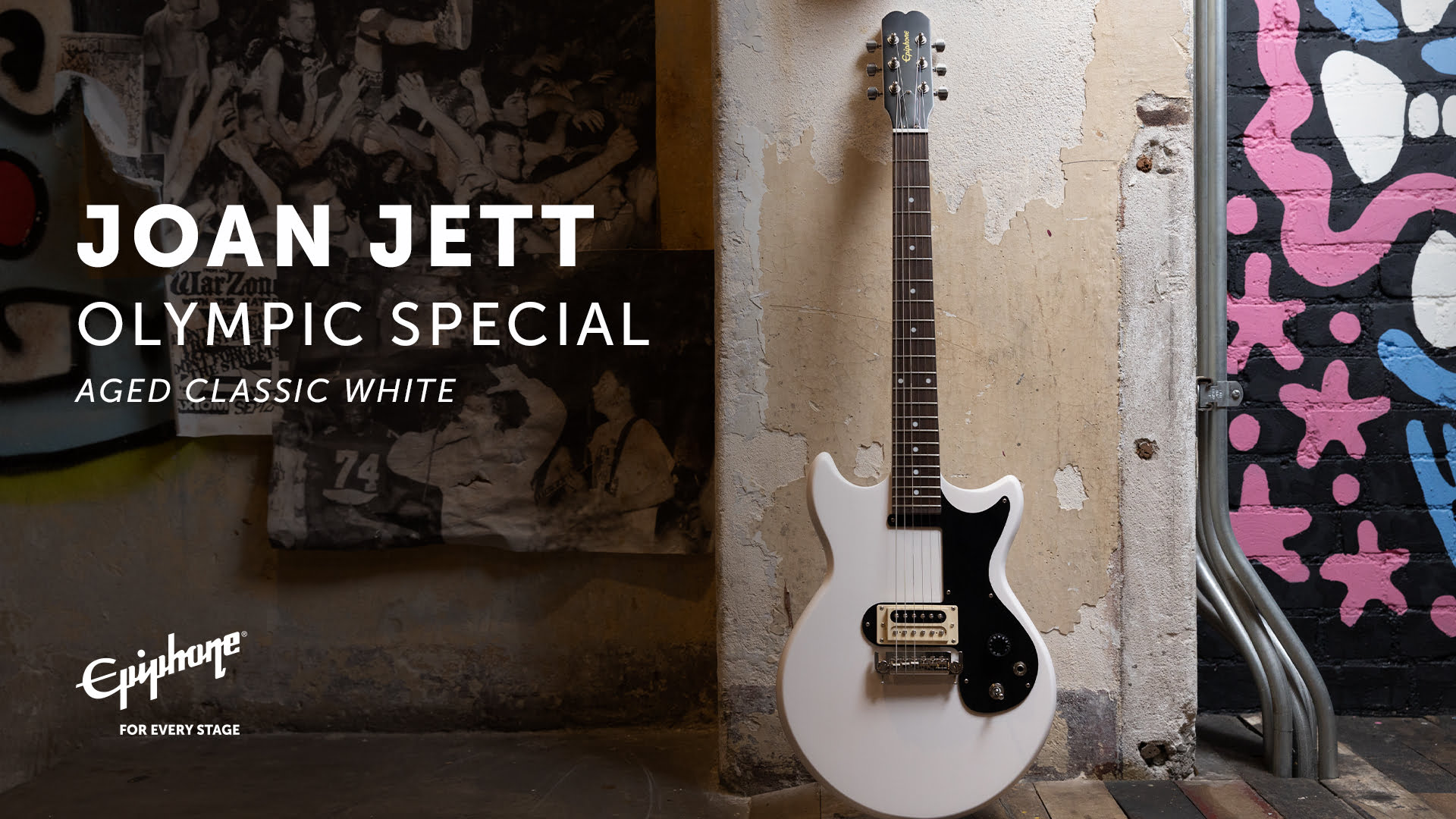 We dare say this is one of the most significant guitar releases of the year: a real treat for fans of Joan Jett & The Blackhearts, rock and roll, or simply – brilliant music.
Without further ado, here's a new addition to our offer. Introducing the Epiphone Joan Jett Olympic Special with Aged Classic White finish!
A Remarkable Guitar for Good Sound Enthusiasts
With this instrument, Epiphone confirms again that it is one of the leading manufacturers in the world. It's a nod to the classics, boasting that good ol' vintage vibe… As well as a model adapted to the requirements set by modern stage instruments.
Onboard, you'll find a single PowerHammer PRO humbucker wired to a CTS volume pot. And an on/off toggle switch providing "kill switch" functionality.
What else? The guitar features a mahogany body and neck, while the fingerboard is Indian laurel. An adjustable wraparound bridge gives perfect intonation changeability. And since it's well-anchored in the body: an exceptional sustain.
On the rear of the headstock, you'll find the icing on the cake: a reproduction of Joan's signature.
The guitar arrives with a Custom Premium Gig Bag.
Why the White Color?
Here's what Joan herself has to say about her new signature model.
"What attracted me to guitar was just being able to make that kind of noise and to have control over it. So when we're talking about releasing my new Epiphone signature guitar, it had to have my sound."
Let's dive into the subject of color for a moment. The artist wanted the new model white, although it drew inspiration from an instrument with a classic Sunburst finish.
So, why this particular color? Well, it's primarily about allowing musicians to find their own means of expression by customizing the looks. As Joan Jett stated:
"Start with a guitar built for my sound, but you're able to make it your own. Paint on it, write on it, beat it up, or polish it daily. The point is to make it your vision and voice."
Want to sell this model to your customers? Get in touch with us and include the Epiphone Joan Jett Olympic Special in your offer!