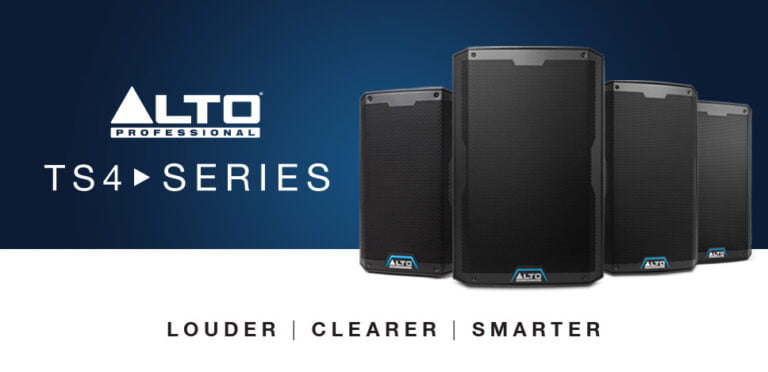 Alto Professional, the world's leading innovator for live performance reinforcement products, today introduced the latest generation of its best-selling TrueSonic powered PA speakers – the TS4 series.
Building on the huge success of Alto Professional's TS3 Series, the new TS4s deliver increased power (up to 2500W on TS412 and TS415 models); "Speaker Use" DSP Modes to get great sound for any application; and Bluetooth connectivity, linking, and control via the free Alto App.
"These are without a doubt the best-sounding TS loudspeakers ever," says Nathan Butler of Alto Professional. "More power, clearer sound, and Bluetooth capability add up to a series that redefines the level of performance and features you find at this price point."
Designed for ease of use by DJs, bands, or venues, every TS4 features an integrated 3-channel mixer that can handle mics, instruments, or line-level mixer signals without the need for additional hardware or adjustment.
Streaming directly from a laptop, phone, or tablet is simple with TS4's built-in Bluetooth connectivity. Simply pair a device to the speaker via the rear panel control to get the music pumping. The True Wireless Stereo function means that audio can be sent to two TS4 speakers in perfect stereo without the need for any cables.
Bluetooth functions can also be accessed remotely via the Alto App, along with three 'Speaker Use' Modes so the speaker can be tailored to sound its best in any venue. In addition, the App allows remote control of a Custom EQ setting, so the user can fine-tune the sound from any listening point for even greater control.
From the high-quality drivers to the fanless Class D amplifiers, every aspect of the TS4 Series has been designed for superb reliability. Each speaker features a lightweight, sleek, black box design that can be used as the application demands – freestanding, as a wedge monitor, pole-mounted, or suspended via the integrated suspension points. Whether used for mobile gigs and performances or fixed installation, the TS4 series delivers superior sound.
There are four models in the range: The 2000W TS408 and TS410, and the 2500W TS412 and TS415, with 8-10-12- and 15-inch woofers respectively.
The Alto App is available as a free download for iOS and Android operating systems